At around 1am on the morning of December 8, 2019, rapper Jarad Anthony Higgins, better known by his stage name Juice Wrld, landed in a private plane at the Midway International Airport in Chicago. Officers were waiting when the flight landed, on suspicion of the plane containing weapons and narcotics. As police searched the plane, they came across 41 bags of marijuana, 6 bottles of codeine cough syrup, a .40 caliber pistol, 2 9mm pistols, and a high-capacity ammunition magazine.
The plane had 10 passengers, as well as Higgins' girlfriend, Ally Lotti. As police searched, Higgins had a seizure and went into cardiac arrest. Lotti told the officer that he "takes Percocet and has a drug problem," according to the Chicago Tribune. Narcan (Naloxone) was administered to Higgins in an attempt to reverse the impacts of a narcotic overdose. Nevertheless, the cause of Juice Wrld's death was not immediately known.
Higgins temporarily woke up but was confused, as he was taken to Advocate Christ Medical Center in Oak Lawn, Illinois. Higgins was pronounced dead at 3:14 am. After a post-mortem, the Cook County medical examiner's office said they needed to conduct more testing to determine Juice Wrld's death cause.
Many speculated Higgins had taken drugs in an effort to hide them from the police. On January 22, 2020, the Cook County health examiner tweeted: "The Medical Examiner's Office has determined the cause and manner of death of 21-year-old Jarad A. Higgins. Higgins died as a result of oxycodone and codeine toxicity. The manner of death is accident," along with the handle to Higgins' twitter account and the hashtag "#Juicewrld."
Oxycodone Addiction and Fatality: The Life, Music, and Death of Juice Wrld
Juice was born in the same city he would eventually meet his untimely fate: Chicago, Illinois. He was raised in a traditional household with one older brother. At 4 years old, Juice learned to play the piano, followed by guitar, trumpet, and drums. His passion for music started at a young age, and he started posting songs to the music sharing website SoundCloud during his sophomore year of high school.
In 2017, he released his debut EP titled 999, as well as Billboard Hot 100 hit "Lucid Dreams." Higgins' notoriety rose quickly, with music topping the charts and collaborations with seasoned recording artists like Travis Scott and Ellie Goulding. In 2018 he went on tour with Nicki Minaj and had been scheduled to perform at the Rolling Loud festival prior to his death.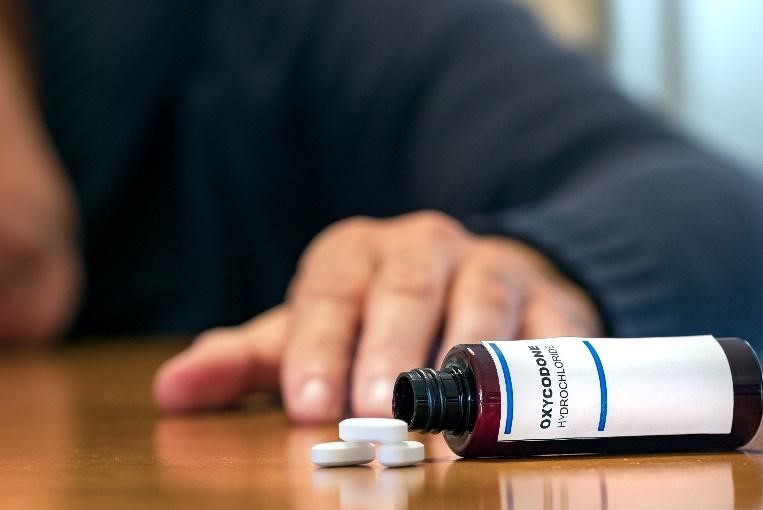 Even though his music career was skyrocketing, Higgins struggled with substance abuse from a young age and throughout his life. A Los Angeles Times article states that Higgins began drinking Codeine in sixth grade and took Percocet for the first time when he was 14. He also admitted to taking Xanax heavily in high school. In July 2018, he said he was attempting to limit his drug use, "I have a lot going for me, I recognize it's a lot of big things, a lot of big looks. I want to be there, and you don't have to overdose to not be there."
The music Higgins produced was exclusive, fusing rock and rap music to create an emotionally vulnerable emo rap. His lyrics often offered insight into his battle with addiction, often mentioning Xanax, Percocet, lean, and Klonopin. The collaborative song "Ain't Livin Right" with rappers Future and Gunna contained lines such as, "Perky in my brain I'm a junkie," and "Codeine in my sippy cup. I chug it, don't sip a lot."
In July 2019, Higgins tweeted, "Bae I'm sorry I be tweaking, you've put up with more than ppl know I know I be scaring you, f— Codeine I'm done." Unfortunately, like many others who struggle with drug abuse, it can take dozens of attempts at sobriety to stick to it. Higgins may have intended to become sober, tweeting "Addiction kills all but you can overcome," but his addiction caught up to him before seeking treatment.
Oxycodone Side Effects
Oxycodone is an opioid used in the treatment of moderate to severe pain. Some popular brand names are OxyContin, Percodan, and Percocet. It is highly addictive and a contributor to the current opioid epidemic in the United States. When a person takes Oxycodone, the drug triggers a rush of dopamine in the brain, providing a euphoric high and giving feelings of relaxation, happiness, and drowsiness.
Oxycodone Addiction Treatment


Many individuals develop a tolerance and must increase their dosage to get the same side effects, leading to Oxycodone addiction. When too much of the drug is taken, and the user's body cannot process it, they may experience nausea and vomiting, low blood pressure, seizures, blue lips and fingernails, muscle damage, coma, and difficulty breathing. An oxycodone overdose can be deadly, and anyone struggling with an Oxycodone addiction should seek treatment immediately.
Many individuals develop a tolerance and must increase their dosage to get the same side effects, leading to Oxycodone addiction. In the unfortunate situation that you or a loved one falls victim to this predicament, contact the United Recovery Project and experience top-tier Oxycodone treatment and rehab programs. Our research-based programs aim to heal you both physically and emotionally to ensure that the chances of a relapse are greatly reduced. We will advise you on the best program to join with reference to your circumstances. Join us and turn your life around.
Resources and References: